Mindfulness and Meditation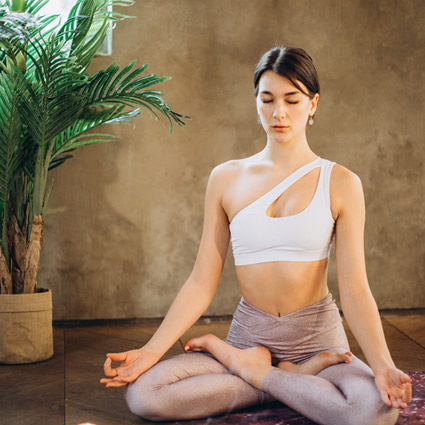 If you've found yourself feeling stressed, anxious, out of touch, or simply not as if you're living your healthiest, happiest life, we've got something that may interest you: Focused, coached mindfulness and meditation sessions.
These completely natural modalities help to create improved inner peace, contentment, and self-development.
Here's more on what you can expect in a session.
What is Mindfulness?
Mindfulness is a form of meditation that helps to teach and create awareness that your thoughts do not need to be controlled. Instead of being the 'thinker' of the thoughts, we'll help you understand how you can practice observing your thoughts to truly understand them and recognise thought patterns.
We'll focus on removing the judgement from thoughts to allow you to process them honestly. There's also a great deal of focus on being present.
Nearly everyone can benefit from this type of work.
What is Meditation?
Meditation is designed to allow for your mind to experience peace and harmony, producing a state of pure awareness to help you become one with yourself and mind.
Most who practice experience a state of one-ness that helps to reduce anxiety, stress and even fears. While the practice isn't rooted in religion or prayer, it may help you feel more in touch with your spiritual side.
Benefits may include:
Increased creativity and learning capacity
Improved memory
Heightened emotional state
Feelings of happiness
And more
How We Can Help
We're happy to offer sessions for both mindfulness and meditation in a six-week course. If you'd like to learn more about each, you can schedule a 100% free consultation to find out more about how to practice each and whether or not it may help you achieve your goals.
It will also give our team a better idea on whether or not it may be a good fit for you, and we can provide our recommendations going forward.
At the end of the day, we want you to have the best experience possible in natural health and wellness.
Frequently Asked Questions
Do I Have to Be a Chiropractic Patient?
No! You don't have to be a chiropractic patient to book a session for either modality. Some of our current patients began with chiropractic care, and then found that other offerings in the practice helped them on their journey to wellness. We're happy to offer a well-rounded approach to your care.
How Will I Know if I'm Doing it Right?
We'll give you the necessary tools and education to recognize awareness in your body, so that you'll be able to practice either whenever you'd like, whether it's during a quiet break in your day or while you're doing the dishes.
Ready to Learn More?
We'd love the chance to get to know you. Contact our team today to book your free consultation to learn more about our services. Remember, you don't have to be an expert to benefit from these practices-our sessions are designed for beginners to help you express true wellness.
Get started today!
CONTACT US »

Mindfulness and Meditation Semaphore, Port Adelaide, West Lakes, Largs Bay SA | (08) 8242 1581