Massage Therapy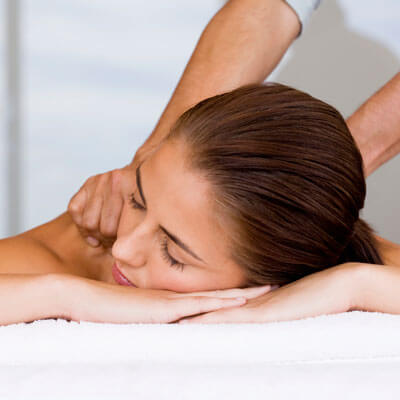 At our practice, we love to help patients express their true health-it's our number one goal after all. Sometimes, that means going beyond chiropractic care and into other modalities. Enter: Massage therapy.
Massage therapy can be an excellent way to help your muscles relax and hold adjustments longer, therefore keeping you happy and healthy. Remedial massage promotes blood flow to damaged or painful area; this area includes muscles or tendons that are stiff, strained, knotted, tense or injured.
Types of Massage Offered
We're happy to offer a number of different massage types for a variety of patients. Our therapist is skilled in a variety of techniques, including but not limited to:
Swedish massage
Trigger point therapy
Sports massage
Myofascial release technique
Deep tissue massage
Massages are offered in two-time lengths. A typical massage lasts sixty minutes. For those wanting continued relief, we're happy to offer 90-minute massages as well. For pricing details, simply give us a call and we'll be happy to provide the costs to you.
At the start of your first visit, your massage therapist will go through your needs for the massage, before directing you through your pre-massage preparations. Our massage therapists apply various massage treatment techniques to help you get relief, start re-aligning soft-tissue balance, improve overall movement, flexibility, and blood flow and help you feel restored and re-energized. You'll learn more about how to implement self-management strategies such as flexibility stretches and exercises.
During your massage, it is essential for you to communicate to the massage therapist about anything you may need, for example, if the massage pressure is hard enough or if it is too hard, or if you are uncomfortable in any way.
This depends on the severity of your problem and what you're seeking massage for. During your first appointment, our therapist will be better able to gauge your needs. For most patients, visiting us once a month may help them feel relaxed and rejuvenated. For others dealing with more severe issues, a frequency of one massage every 2-3 weeks may be more ideal.
We're proud to have Nathan as a part of our team. Nathan is certified in Remedial massage and has been helping patients just like yourself for over five years. Nathan welcomes patients of all walks of life and specializes in a variety of massage types.
Schedule Your Visit Today
Ready to unlock a world of natural health? We'd love to invite you in for a massage today. Schedule your visit by contacting us for an appointment. We look forward to meeting you.
CONTACT US »

Massage Therapy Semaphore, Port Adelaide, West Lakes, Largs Bay SA | (08) 8242 1581