Group Fitness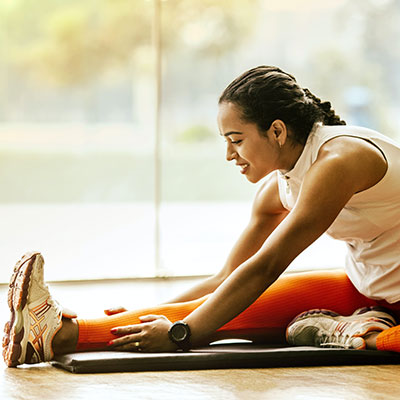 Here at Vitality Semaphore all participants are welcome to take a no charge fitness test, functional movement screen and well-being inventory so that we can cater for your individual needs within these group fitness classes.
Come and try a range of group fitness classes that are suited for all levels and ages, with the focus on postural strength, mobility and balance in all classes.
We don't do "smash smash" here, especially in the cardio circuits, strength and conditioning circuits. I did smash smash when I was training and representing Australia in sport aerobics when I was in my 20's! Now don't get me wrong, if you want to go for it, let us know, we can push you if that is what you wish for, no issues there.
BUT beginners or people who have been sedentary for many years, we follow the "talk and workout rule", for at least some time, If you can exercise for most of the 40 mins and talk and get some huffing and puffing at the same time, you are in a safe training place.
Please book in for your complimentary fitness test and functional movement screening (FMS). The FMS is optional but recommended, so that we can meet your physical wellness needs.
FREE INTRO CLASS
Free Intro Class – Register Now
Come and try any class you like for FREE, and see for yourself what it's all about. Limited to one per person. Please book into your class either online, by calling us directly. REGISTER NOW »


Class Timetable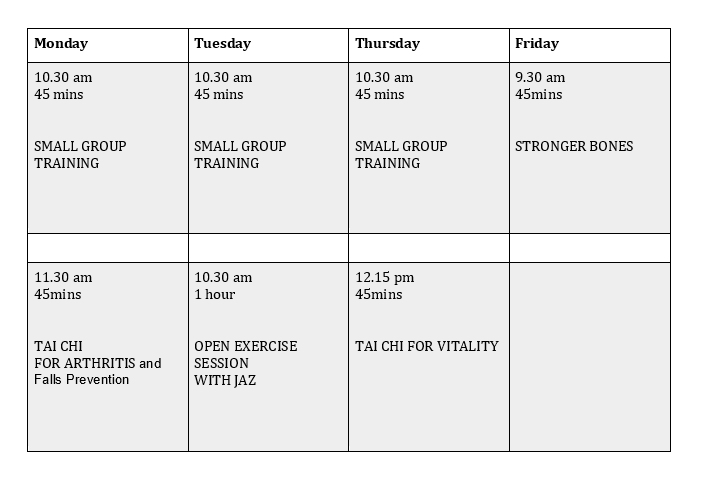 * For Pilates with Jodie and Sol Yoga please email us to receive information on how to book into these classes.
Download the App

A Range of Class Styles
We have a great range of class styles available for all ages and abilities. Whether you are new to exercise or a seasoned weekend warrior there is sure to be something for you!
Small Group Training
Group circuit fitness class suited to all fitness levels.
A fun low-to-moderate intensity format using cardio machines and resistance stations to help increase cardio vascular and respiratory function, strength, coordination and balance. The circuit format comprises safe, evidence-based exercises adapted to individual needs and a working intensity at your own pace.
Stronger Bones
Exercise class that will allow you to engage in a variety of exercises designed to maximise weight-bearing loading, muscle strength and balance. It is specifically designed for safe and effective exercise improving bone density. strength, along with balance. Also beneficial for conditions of osteoporosis and osteopenia. Research has shown that resistance exercises training is one of the best and most effective modalities to help improve bone mineral density for osteoporosis and osteopenia.
Open Exercise Session
An hour session with Clinical Exercise Physiologist assistance and supervision. Following an initial assessment, participants attend an open exercise session. A tailored and goal based exercise program will be developed for each participant. Dependent on the individuals results and set goals, these sessions may include but are not limited to the incorporation of cardiovascular, strength and balance exercises to be completed at your own pace.
An initial function moment assessment is required prior to commencement.
TAI-CHI for Arthritis and Falls Prevention – 45 mins
Tai chi is considered one of the most effective exercises for health of mind, body and spirit. The essential principles include; control of movements and breathing; generating internal energy, mindfulness and serenity. Open to all age groups, it can be easy to learn and health benefits can be felt quite soon after starting a group program.
The purpose of tai chi is to cultivate the Qi or life energy within us to flow smoothly and powerfully throughout the body, promoting health and wellness. Flexibility exercises enable people to move more easily, and facilitate circulation of body fluid and blood, which can enhance healing. Numerous studies have also shown modernised tai chi movements, emphasising weight transference to improve balance, has also been very effective in falls prevention.
Start with a *gentle program with flowing movements ideal for arthritis or other chronic conditions such as fibromyalgia, MS or even asthma, or join a revitalising tai chi energy program incorporating two different tai chi styles combining fast and slow movements.
Participants do not need any experience in tai chi to join, but can have fun learning in a safe, social setting.
*This program is recommended by Centre for Disease Control and Prevention (cdc.gov) for improving balance and falls prevention.
TAI CHI for VITALITY – 45 mins
A revitalising tai chi program to promote internal energy and help with your ability to manage stress. This program incorporates two tai chi styles that combine fast and slow movements. Participants do not need any experience in tai chi to join, but can have fun learning in a safe, social setting. Open to all age groups, it can be easy to learn and health benefits can be felt quite soon after starting a group program.
Here at Vitality Semaphore we recognise that getting to classes can be tricky sometimes. For our members, open sessions will allow you to use the floor space and awesome equipment outside of set class times.
 For all monthly memberships and all class passes a no charge 1-on-1 consultation with our certified and qualified Positive Mindset Coach Maria (currently studying Post Grad, Degree in Counselling with ACAP, Australian College of Applied Psychology) will help you find your WHY. In this consultation we will set out an initial road map towards your Health and Wellness Goals.
 A gap free Functional movement assessment with our Exercise Physiologist.
 Also we have 'open studio times' that will allow you to use our studio space outside our class times.
Do you have Health Insurance?
All of our class passes and memberships are claimable via health funds! If you have extra cover, you can claim under "health improvements." CONTACT US »

Group Fitness Semaphore, Port Adelaide, West Lakes, Largs Bay SA | (08) 8242 1581