Group Fitness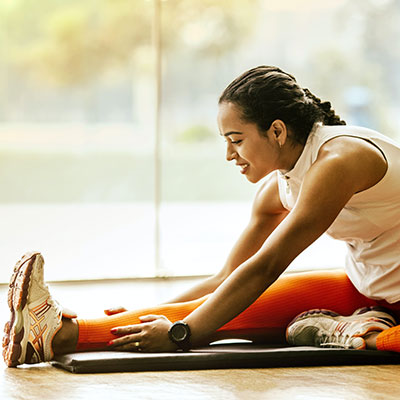 Here at Vitality Semaphore all participants are welcome to take a no charge fitness test, functional movement screen and well-being inventory so that we can cater for your individual needs within these group fitness classes.
Come and try a range of group fitness classes that are suited for all levels and ages, with the focus on postural strength, mobility and balance in all classes.
We don't do "smash smash" here, especially in the cardio circuits, strength and conditioning circuits. I did smash smash when I was training and representing Australia in sport aerobics when I was in my 20's! Now don't get me wrong, if you want to go for it, let us know, we can push you if that is what you wish for, no issues there.
BUT beginners or people who have been sedentary for many years, we follow the "talk and workout rule", for at least some time, If you can exercise for most of the 40 mins and talk and get some huffing and puffing at the same time, you are in a safe training place.
Please book in for your complimentary fitness test and functional movement screening (FMS). The FMS is optional but recommended, so that we can meet your physical wellness needs.
FREE INTRO CLASS
Free Intro Class – Register Now
Come and try any class you like for FREE, and see for yourself what it's all about. Limited to one per person. Please book into your class either online, by calling us directly. REGISTER NOW »


New Classes Coming Soon!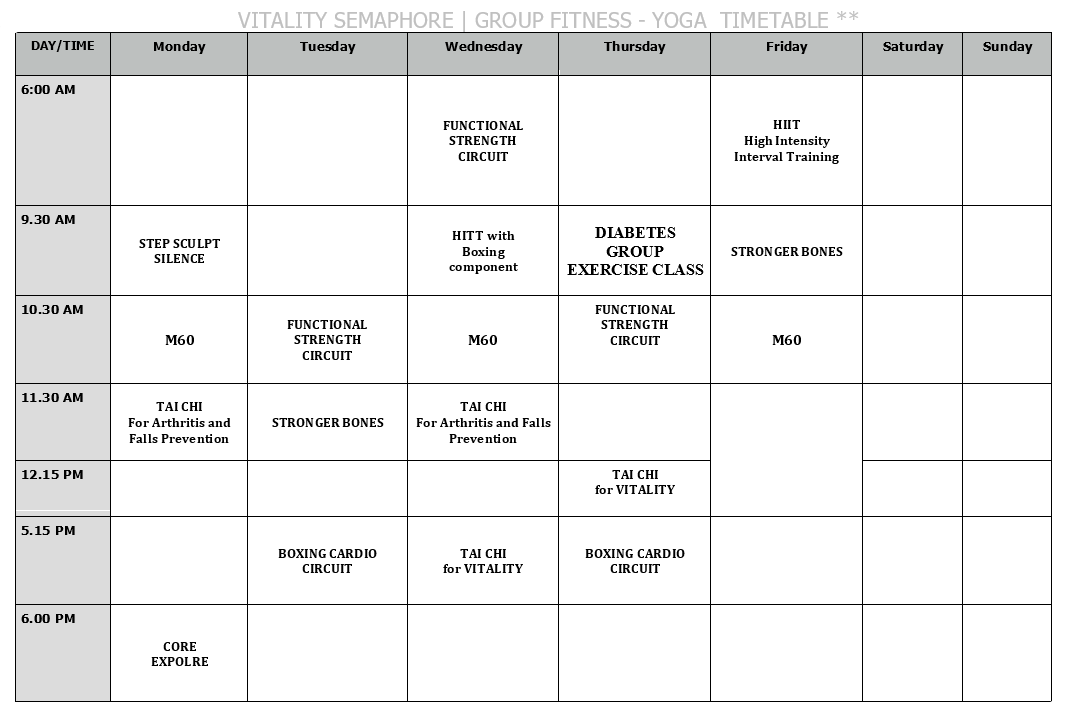 Download the App

2 Weeks For Only $34 – Special Intro Offer
Come & try any 8 classes you like for 2 weeks for only $34. This pass is valid for 14 days commencing from your first booked class, and is limited to one purchase per person and can only be used by you. Please book into your classes either online, by calling us directly, or you can turn up at least 10 mins before class. If you are unsure where or what class to start with, our Exercise Physiologist Teresa will help get you started. A functional movement screen is usually valued at $130, however when you purchase our two weeks Introductory pass the functional movementscreen is either Gap-Free (with private health insurance) or just $25 with no health insurance. BUY NOW »
A Range of Class Styles
We have a great range of class styles available for all ages and abilities. Whether you are new to exercise or a seasoned weekend warrior there is sure to be something for you!
Functional Movement Strength Circuit – 45 mins
An all-age inclusive class and perfect for all levels of fitness experience. With a focus on patterns of movement used in everyday life, we will be moving our bodies in ways that differ to traditional training styles to maximise our muscle function and joint strength. By training in different ranges of motion, you will be building power in your muscles which improves stability and mobility with joint movement. Whether you're wanting to work on improving sporting performance or boosting your everyday functional movement strength, you will soon feel the benefits of increased joint strength and mobility with this class.
BOXING Cardio Circuit – 45 mins
A circuit style class using boxing exercises to help improve hand eye co-ordination, anaerobic fitness and endurance. Creating a fun and inclusive environment, this class is a perfect fit for people who want to work out with their partner, friend or even meet new people within the community. Partnered work is included in this class, so bring along your boxing gloves!
M60 -45 Mins
Masters 60. Group circuit fitness class for the over 60's. Suited to all levels of fitness. Masters 60 is a group circuit fitness class for the over 60's and suited to all levels of fitness. A fun low-to-moderate intensity circuit class using cardio machines and resistance stations to help increase cardio vascular and respiratory function, strength, coordination and balance. The circuit format comprises safe, evidence-based exercises adapted to individual needs and a working intensity at your own pace. Initial Screening, a no charge functional movement screen is undertaken prior to commencement.
STRONGER BONES™ – 40 mins
If you are at risk or have been diagnosed with osteoporosis or osteopenia it is recommended that you participate in a regular exercise routine to reduce the rate of bone loss and conserve bone tissue, lowering the risk of fractures. Most bone fractures occur due to a fall and therefore by improving your muscle strength and balance you can reduce your chances of falling, reducing the risk of fractures. STRONGER BONES is an exercise class that will allow you to engage in a variety of exercises designed to maximise weight-bearing loading, muscle strength and balance. It is specifically designed for safe and effective exercise to manage osteoporosis or low bone density however is suitable for anyone wishing to improve their muscle and bone strength, along with balance. This class can also be beneficial for post-menopausal women.
CORE EXPLORE- 40 mins
The core is a collective term to refer to the primary muscles at your centre. These muscles bring stability to the spine and support movement of the limbs. A strong core can help to reduce the risk of lower back pain, improve your balance and stability, prevent injuries and help you with day-to-day physical activities. CORE EXPLORE focuses on improving trunk function and postural alignment by strengthening the group of core muscles that support the spine and pelvis. The class incorporates controlled movements that enhances the body's stability, mobility and strength. It uses low impact Pilates based exercises that is suitable for all abilities, from beginner to advanced.
HIIT (High intensity interval training) – 45mins Intermediate/Advanced
The aim of this class is to challenge your cardio fitness, using step, treadmills, agility ladders and more. With short breaks in between rounds of exercises you will be working on improving cardio and muscular endurance efficacy.
TAI-CHI for Arthritis and Falls Prevention – 45 mins
Tai chi is considered one of the most effective exercises for health of mind, body and spirit. Principles include; control of movements and breathing; generating internal energy, mindfulness and serenity. The purpose of tai chi is to cultivate the qi or life energy within us to flow smoothly and powerfully throughout the body, promoting health and wellness. Numerous studies have shown modernised tai chi movements, emphasising weight transference to improve balance, has also been very effective in falls prevention. Start with a *gentle program with flowing movements ideal for arthritis or other chronic conditions such as fibromyalgia, MS or even asthma. *This program is recommended by Centre for Disease Control and Prevention (cdc.gov) for improving balance and falls prevention.
TAI CHI for VITALITY – 45 mins
A revitalising tai chi program to promote internal energy and help with your ability to manage stress. This program incorporates two tai chi styles that combine fast and slow movements. Participants do not need any experience in tai chi to join, but can have fun learning in a safe, social setting. Open to all age groups, it can be easy to learn and health benefits can be felt quite soon after starting a group program.
Step, Sculpt, Silence – 45 mins
Easy movement patterns to help you let go, sweat and have fun while improving your coordination, stamina and overall fitness. Followed up with stretching and three-minute mindfulness activity.
Diabetes Exercise Group
Everybody benefits from regular exercise but for those with diabetes mellitus (Type 1 or Type 2) exercise can play a vital role in the management of their condition. Individuals with Type 2 Diabetes Mellitus are eligible to be referred by their GP to a group class with the fee largely subsidised by Medicare. Following an initial assessment, participants attend 8 Group Exercise classes as part of the subsidised program. A tailored exercise program will be developed for each participant following the initial assessment. Each class will incorporate cardiovascular, strength and balance exercises that can be completed at your own pace.
Here at Vitality Semaphore we recognise that getting to classes can be tricky sometimes. For our members, open sessions will allow you to use the floor space and awesome equipment outside of set class times.
 For all monthly memberships and all class passes a no charge 1-on-1 consultation with our certified and qualified Positive Mindset Coach Maria (currently studying Post Grad, Degree in Counselling with ACAP, Australian College of Applied Psychology) will help you find your WHY. In this consultation we will set out an initial road map towards your Health and Wellness Goals.
 A gap free Functional movement assessment with our Exercise Physiologist.
 Also we have 'open studio times' that will allow you to use our studio space outside our class times.
Do you have Health Insurance?
All of our class passes and memberships are claimable via health funds! If you have extra cover, you can claim under "health improvements." CONTACT US »

Group Fitness Semaphore, Port Adelaide, West Lakes, Largs Bay SA | (08) 8242 1581