Chiropractic Care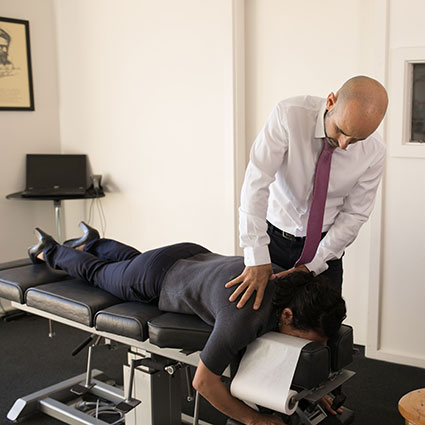 In our society, spinal problems are common. Rather than getting to the cause of an issue, people tend to take a medication to mask their symptoms of pain. As a chiropractor, Dr Mario Stefano seeks to find areas of spinal dysfunction that lead to reduced mobility, poor posture and pain or dysfunction. With a chiropractic adjustment, the goal is to improve your overall spinal function.
When your spinal function is enhanced, you can move better, have proper posture and boost the integrity of your nervous system. When you have less stress in your nervous system, your body is able to better adapt to your chosen lifestyle.
Getting Started
It's our aim to find out as much as we can about you, your history and your current concerns that are affecting your daily life. We want to uncover what has gotten you to this point and utilise technology and an array of testing to determine the condition of your spine.
X-ray facilities are available on-site. When we want to have a full picture of your spine, these images allow us to locate imbalances so that your adjustment can be extremely precise. We provide tailored care that works for you, as your health is important.
There is a myriad of reasons that people seek out our clinic. The most common include
Poor posture
Back pain
Neck pain
Headaches
Migraines
Pins and needles
Sporting injuries
Musculoskeletal pain
Stiffness
After we have completed a full investigation of your health, we'll make an adjustment to your spine and see how your body responds. There are several techniques that can be used, including manual and instrument-based methods. Just a small input to your body may add up to tremendous changes in your wellbeing. The technique will be chosen based on what is most appropriate for you.
You can choose whether you'd like to simply get out of pain as quickly as possible or are more interested in the correction of your problem and the prevention of a recurrence.
As our patient we work with you to identify and uncover any underlying issues, and create an appropriate treatment plan to get your out of pain & discomfort as quickly as possible.
Return to Doing the Things You Love
Don't let pain or dysfunction stop you from participating in your favourite activities. Contact Vitality Semaphore today to schedule your first appointment! We have Saturday and same-day visits available.
CONTACT US »
* Valid for new patients only. Limit 1 per person.


Chiropractic Care | (08) 8242 1581